A Small home, room dividers, and outdoor lighting...
Today I am sharing with all of you a small home that is fantastic in every detail, a different kind of room divider, and outdoor lighting concepts.. All of which are unique original designs that I think many of you will enjoy...
Enjoy the pics and post...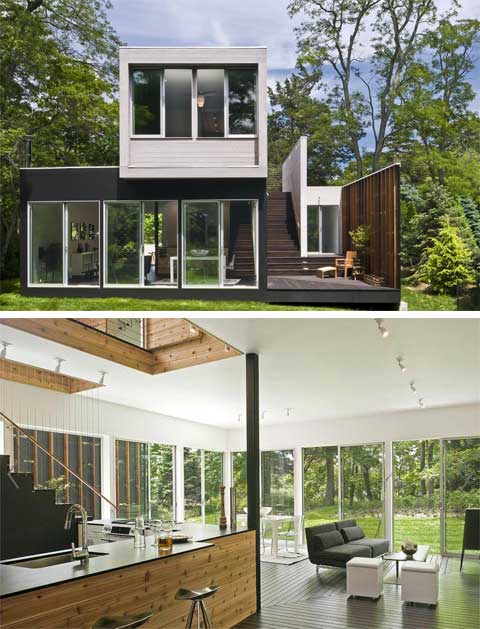 This small modern home sits on a narrow lot fronting the tidal estuary of Noyack Creek, NY. The texture and color of the siding reference a black box theater – a concept that fits perfectly to the new owners, a new York actor who wanted a retreat for relaxation and casual entertaining.
Despite the small site and budget, the architects managed to create a beautiful private residence with a total space of 1,350 sq. ft.. Carefully-placed windows let in light and water views yet maintain privacy from neighbors and the street.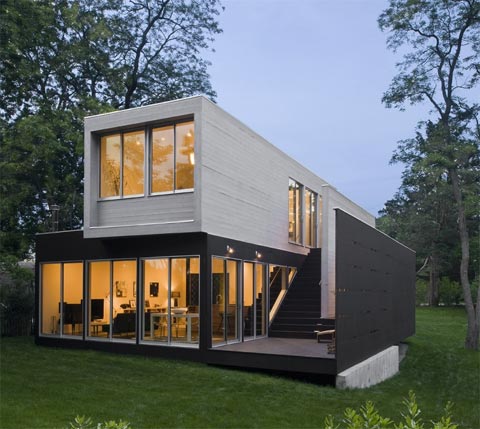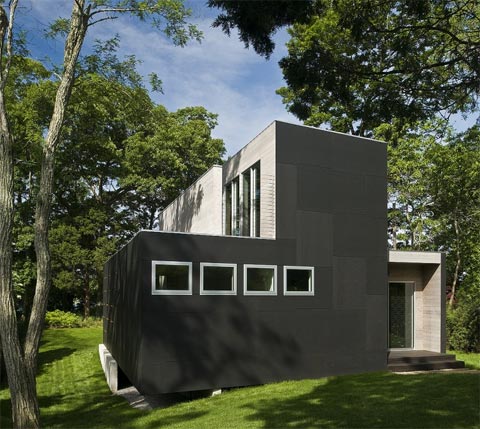 The ground floor consists of a loft-like living and dining spaces, which open up to an outdoor waterside deck at the back; this cozy outdoor space really feels like a room with two walls defining its shape; I also love how it links to the small guest room and to the second floor, via a flight of outdoor stairs.
Inside, a parallel staircase leads to the second floor where a master bedroom with a glazed wall overlooking the water, and a balcony awaits.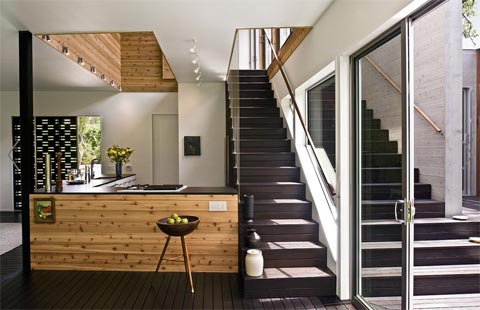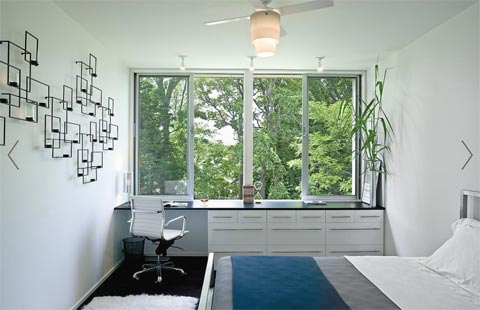 Overlooking the public spaces below, a bridge with a stainless steel cable guardrail, connects the master bedroom with a bathroom, almost like a catwalk.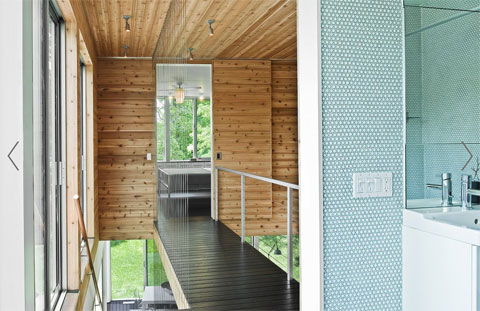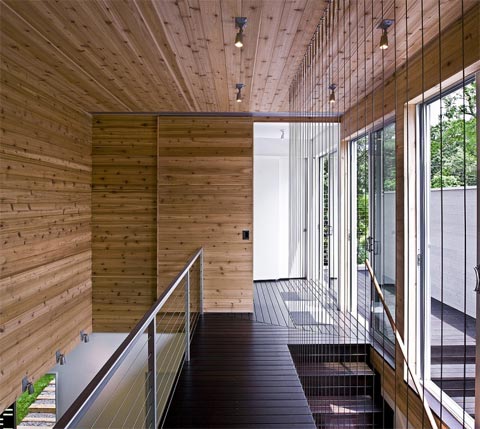 Beneath the stair a hidden guest room enjoys water views via a nearly hidden sliding door; this compact space feels like a true hideaway, a private nook for guests to enjoy.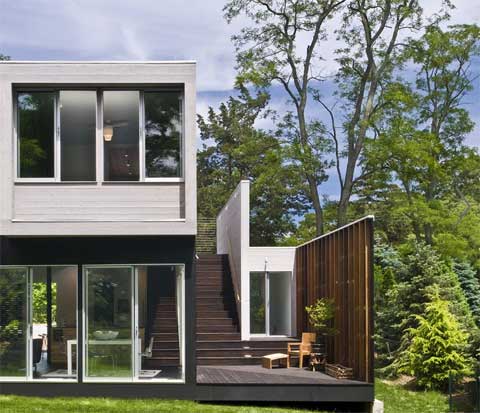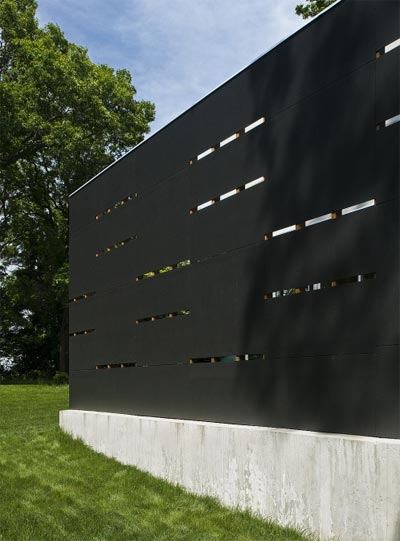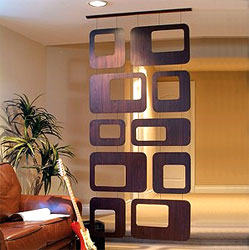 Check out the stylish Sotto hanging room divider, from Nexxt by Linea, with its retro-chic geometric cutouts and sophisticated walnut veneer finish.
Measuring 40 inches wide by 88 inches high with multiple assembly options to suit your desired look, simply attach it to the ceiling with the hanging bar or hang it as a wall decor creating an impact like no other.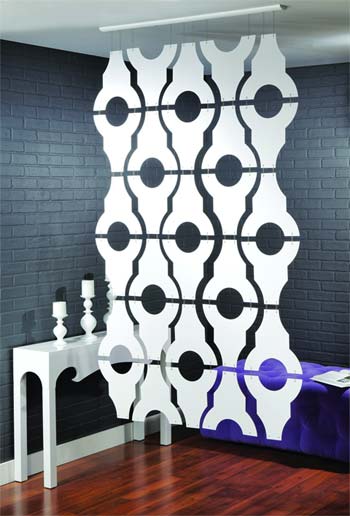 What's unique about this decorative room divider is that it comes in various designs and sizes, providing a nice partition in a room while still maintaining an open, airy feel – Perfect for the bedroom, bathroom, or foyer and simply ideal for dividing up large living spaces like studios, lofts, and open floor plans.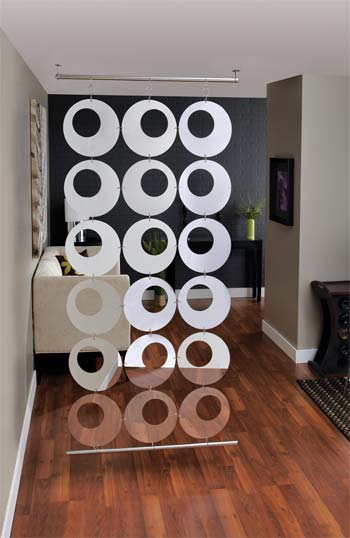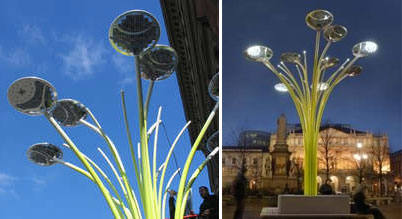 Solar landscape lighting or solar outdoor lighting, as you might call it, is on the rise!
Artemide, an Italian company specializing in designer lighting systems, and the German company Sharp Solar, the world's largest producer of photovoltaic (PV) cells has joined forces to produce the Solar Tree, designed by British designer – Ross Lovegrove.
These solar landscape lighting trees prototype provided enough light during the night-time at the Ringstrasse in Vienna, Austria, although the sun did not show for as much as four days in a row. The branches of the solar tree were decorated with 10 solar lamps, each one comprising 36 solar cells; they also had rechargeable batteries and electronic systems.
"The solar cells on the tree were able to store enough electricity in spite of receiving no direct solar light for days at a time because of the clouds. They showed that solar trees really are a practical form of street lighting," Christina Werner from Cultural Project Management (Kulturelles Projektmanagement, Vienna) told RenewableEnergyAccess.com.
The Corona Outdoor Lighting System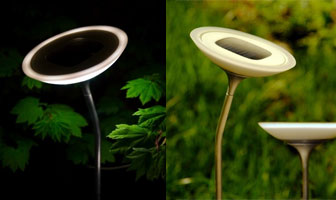 Corona is not just a good beer. It is also the new outdoor solar lighting system by Tokyo industrial designer, Shane Kohatsu and environmental designer, Emi Fujita. 
This solar-powered outdoor lighting system can be staked to the ground, attached to a wall, or simply placed on a table top. It transforms sunlight into energy during the day, and its LEDs automatically start to glow when the sun sets. This outdoor solar light is composed of several pieces, no glues or fasteners, so it could be easy to dissemble for recycling.
The Corona outdoor solar light resembles in its delicate form, a carved plate being balanced on a stick by an eager circus juggler.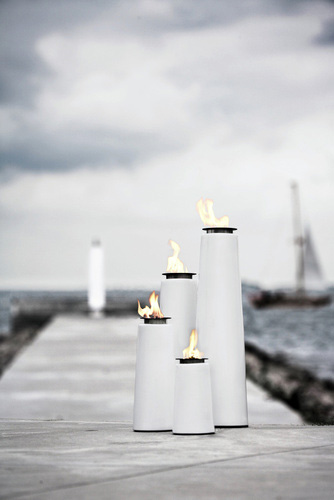 When we think about a lighthouse a few pictures can pop into our minds. Along with those pictures a certain feeling of being safe and secured washes over us. That is the effect given by the Lighthouse Oil Lamp – a stylish lamp that glows like a bonfire in the dark.
This unique lamp is equipped with a newly developed oil burner that really lights up the night. Furthermore, it has a unique filling system that makes it possible to fill the oil from above, so there's no need to take the lamp apart. With a large flame, your backyard will light up, spreading a comforting glow. This is a light of a safe shore. 
A light is an entire new world. Whether it is a romantic ambiance you're after or a chill-out atmosphere, light is the best way to address it. The effect of a massive light given by a huge flame is tremendous; scaring away darkness isn't just a saying it's a living action. With the Lighthouse Oil Lamp this action comes to life with a maximum effect. It's time for you to scare the dark in your backyard.